In today's digital age, having a strong online presence is essential for any dental practice. With the majority of patients searching for local dentists online, it's crucial to ensure that your website is easily discoverable and appears at the top of search engine rankings. Search engine optimization (SEO) is the process of optimizing your website to improve its visibility and ranking in search engine results pages (SERPs). This complete guide to SEO for dentists will provide you with all the necessary information and strategies to effectively optimize your website, attract new patients, and grow your practice online.
SEO for Dentists MasterPlan
| | | |
| --- | --- | --- |
| Week | Task | Description |
| 1 | Keyword research | Identify the most relevant and high-traffic keywords for your dental practice. This includes both general terms like "dentist near me" and more specific terms like "cosmetic dentistry" or "emergency dentistry." |
| 2 | On-page SEO | Optimize your website's content and structure for the keywords you identified in step 1. This includes things like creating title tags, meta descriptions, and header tags, as well as optimizing your website's loading speed and mobile-friendliness. |
| 3 | Link building | Build backlinks to your website from other high-quality websites. This helps to improve your website's authority and ranking in search engine results pages (SERPs). |
| 4 | Content marketing | Create and publish high-quality content that is relevant to your target audience. This could include blog posts, articles, infographics, videos, and more. |
| 5 | Local SEO | Optimize your website for local search results. This includes things like creating a Google My Business listing and claiming your Yelp profile. |
| 6 | Social media marketing | Promote your dental practice on social media platforms like Facebook, Twitter, and Instagram. |
| 7 | Monitor and track results | Track your website's traffic and ranking to see how your SEO efforts are paying off. |
How Search Engines Work?
Before we dive into specific SEO tactics and details, it's important to have a basic understanding of how search engines like Google actually work.
At a high level, here's what happens when someone searches for "dentists near me":
The search engine pulls hundreds or thousands of web pages that could be relevant to the search terms.

It analyzes each of those pages based on over 200 ranking factors, including things like keywords, backlinks, technical SEO, and more.

The most relevant, high-quality pages for the query are ranked at the top of the search engine results pages (SERPs).

The user clicks on one of the top-ranking results to visit that website.
So in order to show up high in the rankings, your website needs to satisfy both the search engine bots and the searchers themselves. SEO helps make your pages rank well for relevant queries so you get found more easily.
Now let's look at some of the key fundamentals of SEO.
SEO Basics
There are many aspects of SEO to master, but a few building blocks form the core foundation:
1. Keyword Research
The terms and phrases (keywords) that you want your site to rank for need to be central to your SEO strategy. You'll want to research high-volume keywords that get steady search traffic and represent topics/services your business offers. Tools like Google Keyword Planner, SEMrush, and Moz Keyword Explorer can help generate keyword ideas.
2. On-Page SEO
This refers to optimizing the pages of your actual website so search engines can easily crawl, index, and understand your content. Important on-page factors include your page titles, meta descriptions, headers, content, image alt text, site speed, internal linking, and more.
3. Off-Page SEO/Backlinks
The number and quality of other sites linking back to your website (backlinks) is one of the most important ranking factors. Earning backlinks from authority sites helps search engines trust your content and improves rankings. Outreach, guest posting, reviews and directories are some ways to build quality backlinks.
4. Technical SEO
Your website's coding, site architecture, security, responsiveness and other technical elements need to meet best practices so search bots can easily crawl your site. This ensures your site gets indexed properly.
Mastering these core disciplines provides the foundation for an effective SEO strategy. Now let's look at how to apply them specifically for dentists.
Keyword Research for Dentists
Choosing the right keywords and phrases to target with your SEO efforts is one of the most important steps. Here are some tips for researching and selecting keywords as a dentist:
Brainstorm Relevant Terms
Start by listing out words and phrases patients might search when looking for a dentist. Some examples:
Dentist Near Me

Dentist [city Name]

Family Dentistry

Cosmetic Dentist

Emergency Dentist

Pediatric Dentistry

Dentures

Dental Implants

Teeth Whitening
Think about the specific services you offer as well.
Use Keyword Research Tools
Next, plug your ideas into keyword research tools to see estimated search volume and difficulty to rank for each keyword. Focus on terms that get decent search traffic but are less competitive. Long-tail versions of keywords (3+ words) are often easier to rank for than short keywords.
Review Competitor Keywords
Look at what keywords your competitors are ranking for by analyzing their website and looking at their Google search rankings. Target keywords they are successfully ranking for.
Organize Into Buckets
Group your keyword list into categories like services (dental implants, teeth whitening), procedures (root canal), conditions (toothache), specialty terms (pediatric dentistry) etc. This helps develop content topics when optimizing pages later.
Refine and Expand the List
Your keyword research should be ongoing. Add new keywords over time as you create content and determine what terms drive traffic and conversions. Expand beyond Google too into YouTube, Google Maps etc.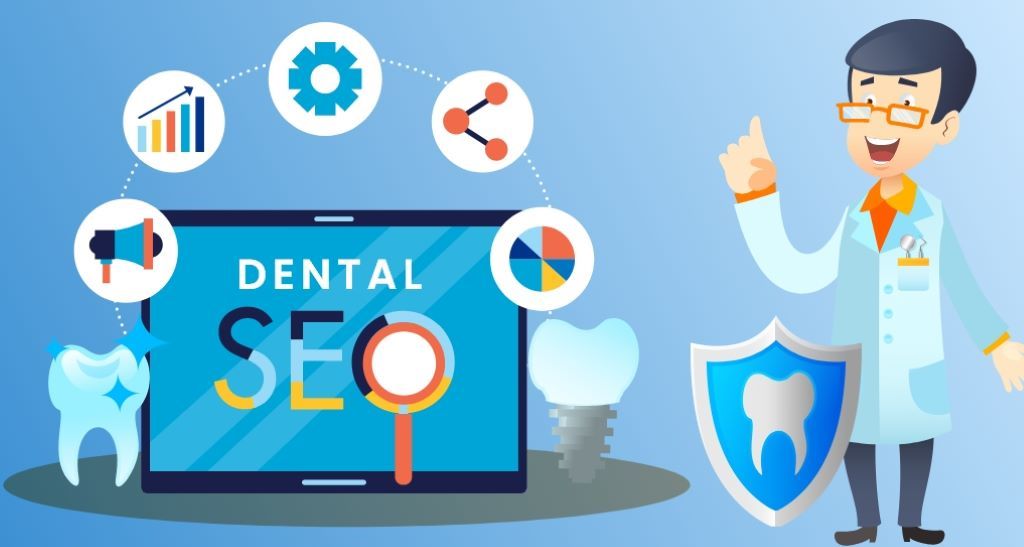 Optimizing Your Website For SEO
With your initial keyword list in place, it's time to optimize your actual website pages to target those terms. On-page optimization establishes your website as authoritative and relevant in the eyes of search engines.
Your Site Architecture
– Make sure your website has a sitemap page and internal linking structure that allows bots to easily crawl all your important pages.
– Keep your site menus clean and well-organized.
– Have a services page with descriptive titles and URLs like www.yoursite.com/services/dental-implants.
Page-Level On-Page Optimization
Go through each high-priority page and optimize elements, including:
Page Titles: Include your most important keywords for that page while keeping it under 60 characters. Get the keywords closer to the start.
Meta Description: Summarize the page content in 155 characters or less using persuasive language. Include keywords.
URLs: Format URLs using hyphens instead of underscores, and include keywords e.g. www.yoursite.com/dental-implants-chicago
Headers: Break up your content using H2 and H3 headers incorporating keywords. Don't over-optimize.
Content: Use your keywords naturally throughout the content. Include keywords in the first 100 words. Add related keywords in the body content, but don't overstuff. Include variations like long-tail versions.
Images: Name image files using keywords and include a descriptive alt tag.
Videos: Optimize video content with keywords in titles, descriptions and captions.
Mobile Responsiveness
With more and more searches happening on phones, a mobile-friendly site is essential for SEO. Test your site on multiple devices and improve elements like load speed.
Site Speed
Faster sites rank better in search, so optimize page load times. Image compression, minifying code, caching, and upgrading servers can improve speed. Use tools like Google PageSpeed Insights and Pingdom to test.
Internal Linking
Linking relevant pages together helps search bots navigate your site and shares "link juice." For example, link your dental implants page from the services page.
By optimizing these elements to target your researched keywords, you establish strong on-page SEO fundamentals for your dental website.
Building Quality Backlinks
In addition to on-page optimization, earning high-quality backlinks from other authoritative sites remains one of the most important ranking factors. Here are some of the top ways dentists can get reputable sites to link back to their website:
Local Citation Listings & Directories
Having your practice listed on directories like Google My Business, YellowPages, Mapquest, CitySearch etc helps establish local SEO authority. Make sure listings are consistent, up-to-date, and include keywords.
Guest Post Outreach
Reaching out to local blogs and niche websites in your industry to contribute guest posts can earn powerful backlinks, especially if you can incorporate a link back to your site within the post. Make sure the sites are relevant.
Update and Optimize Profiles
Keep profiles on websites like Healthgrades, RateMD, ZocDoc, CareDash, etc robust and optimized with keywords. These serve as great backlink opportunities.
Get Reviews and Testimonials
Positive reviews on Google, Facebook, and third-party sites like Yelp contain backlinks as well. Encourage happy patients to leave detailed reviews.
Press Releases
Writing and distributing press releases related to your practice to online press release distribution sites can generate backlinks. Use anchor text links and keywords naturally.
Dental Industry Directories
Specialized dental directories like Dental.net, DentistDirectory.com and DentalBuzz allow you to create a listing with a backlink. Maintain accurate info on directory listings over time.
Sponsor Local Events/Teams
Sponsoring a local youth sports team or community event can earn a backlink from their website. Get the link on their sponsors or donations page.
By securing backlinks from a diverse range of high-authority domains both locally and within the dental space, your website credibility and ranking potential will increase substantially.
Local SEO For Dental Practices
For dentists, having an optimized local SEO strategy is just as important as broader organic search rankings. Here are some key factors to help patients find your practice in local search results:
Google My Business Listing
This is absolutely essential to show up in Google Maps and local packs. Make sure your GMB listing has complete, accurate business info and photos. Respond to reviews and keep the listing active.
Local Schema Markup
By adding schema markup to your site code, you clearly identify your business name, address, and phone number for search engines. This helps you rank better locally.
Citations
As mentioned earlier, having your practice consistently listed on directories like Yelp helps establish local SEO authority. Actively review and update key citations.
Reviews
The more 5-star local reviews you can accumulate on Google and elsewhere, the better. Reviews boost local rankings so focus on getting more positive patient testimonials.
Location Pages
If you have multiple office locations, make sure each has its own page on your site clearly identifying the address, phone number and area served.
Local Content
Create blog posts and web pages optimizing for local keywords like "Portland dentists" to attract searchers looking specifically in your geographic area.
Having a robust local SEO strategy helps you pull in patients who are searching for dentists specifically near their location.
Tracking SEO Results
After putting in all this effort to optimize your site's SEO, you need to be able to track your performance so you can refine your approach over time. Here are some key metrics and tools to monitor:
Search Engine Rankings
Obviously, you want to know where your important pages rank on Google for your target keywords. Check your rankings manually and/or use tools like SEMrush or Moz.
Organic Traffic
Monitor monthly organic traffic to your site using Google Analytics. Traffic should increase over time as you improve rankings. Analyze traffic sources.
Lead Volume
Track form submissions, calls, and other leads generated from organic search. This determines your SEO ROI.
Pages Indexed
Use Google Search Console to see how many of your pages Google has indexed, which is critical for rankings.
Backlinks
Check backlink tools like SEMrush and Ahrefs to see how many new backlinks you earn each month. Monitor quality too.
Page Speed Insights
Keep optimizing your page load speeds based on recommendations from Google PageSpeed Insights and similar tools.
Local Rankings
Check your local pack rankings and organic local rankings on Google to see how your local SEO efforts are paying off.
By regularly analyzing these metrics, you'll be able to see the tangible impact your SEO efforts are having, and identify areas that need improvement.
SEO Pitfalls to Avoid
Certain SEO tactics can actually hurt your rankings or get your site penalized by Google. Here are some key pitfalls and red flags to avoid:
Keyword Stuffing
Using too many keywords on a page can make it appear spammy to search engines, which can negatively affect your search engine optimization efforts. Therefore, it's crucial to be strategic about your keyword usage and use them judiciously. By doing so, you can increase your chances of ranking higher in search results and drive more traffic to your website.
Buying Links
Purchasing backlinks from low-quality sites can have severe consequences for your website's performance and reputation. Rather than taking shortcuts, focus on earning links naturally through creating valuable and shareable content that others will want to link to. By doing so, you'll not only improve your website's search engine rankings but also establish yourself as a credible and trustworthy source in your industry.
Doorway Pages
It's crucial to understand that creating pages solely for the purpose of targeting keywords is a strategy that's destined to fail. To succeed, it's important to provide valuable and helpful content that meets the needs and interests of your users. By doing so, you'll not only improve your search engine rankings, but you'll also establish a loyal audience that trusts and values your brand.
Hidden Text
Deceiving search engines by hiding keywords with the same color as the background is considered a black hat SEO tactic that can ultimately harm your website's rankings and reputation. It's important to avoid this practice and instead focus on legitimate ways to optimize your content for search engines.
Scraper Sites
Don't risk being penalized for republishing someone else's content without adding value. Instead, create original and useful content that engages your audience. Not only will this help you avoid penalties, but it will also establish your credibility as a reliable source of information. Remember, producing original content is key to building a successful online presence.
Sneaky Redirects
Don't fall for the trap of using shady redirects to manipulate your website's PageRank and rankings. Taking shortcuts may seem like a quick fix, but it can ultimately backfire and harm your online presence. Instead, focus on ethical and sustainable strategies that will lead to long-term success.
Anything Deceptive
It's essential to steer clear of deceitful tactics and quick fixes. Instead, prioritize the essence of your work over gimmicks. By doing so, you can establish a reputation as a trustworthy and reliable individual, which can ultimately lead to long-term success.
By steering clear of black hat techniques and focusing your efforts on legitimate SEO strategies, you'll avoid penalties and build sustainable results.
SEO Trends to Watch For 2023
SEO evolves constantly, so it helps to stay on top of the latest algorithm changes and trends:
– Google's focus on pages that provide helpful, authoritative content on topics. Target informational keywords.
– More complex ranking factors and personalization/localization. Tailor SEO to individual searcher intents.
– Expanding into new platforms like YouTube, voice search etc. Optimize across channels.
– Faster indexing of new content. Create fresh, unique content regularly.
– Stricter regulation of link networks and sketchy tactics. Build backlinks slowly and naturally.
– Page experience as a ranking factor. Speed up websites and improve UX.
– Content that keeps users on-site. Include videos, visuals, and good writing.
Staying agile and incorporating these trends into your SEO keeps you aligned with where Google is headed. SEO is always a work in progress!
Action Plan for Local SEO for Dentists
Here is an action plan with specific steps a dentist can take to improve their local SEO:
Optimize Google My Business listing
Completely fill out all fields like business name, full address, phone number, website, hours, services, photos etc.

Make sure the map location is pinpointed correctly. Adjust if needed.

Include a robust business description highlighting your services and specialties.

Add photos of your office, staff, and procedures to stand out.

Respond to all Google reviews to show you're engaged. Ask happy patients for reviews.

Create and verify your Google Posts profile to increase visibility.
Update local citations and directories
Search for your practice on directories like Yelp, Yellowpages, MapQuest, etc and claim and optimize all listings consistently.

Make sure NAP (name, address, phone) details are correct across citations.

Add photos, descriptions, services, and other details to flesh out citations.

Monitor and update citations regularly.
Encourage customer reviews
Install review plugins on your website to make leaving reviews easy.

Personally email patients asking for reviews on Google, Facebook, Yelp.

Train staff to mention reviews at check-out.

Offer incentives for leaving reviews like discounts or free gifts.
Create location pages
If you have multiple offices, create unique location pages on your website for each.

Optimize the page for the city name, like "Dentists in Portland."

Ensure the address, phone number, and map are on the page.
Improve local on-site signals
Make sure the city and state appear in the footer of every page of your website.

Include the business address in the text on the contact page.

List the full address in the footer HTML markup schema data.
Monitor insights
Check Google My Business insights for actions like calls, requests for directions etc.

Review analytics to see traffic to location pages and conversions by geography.

Research local rankings for relevant keywords in your key geographic markets.
By executing each step in this local SEO action plan, dentists can substantially improve their visibility and attract patients searching for dental care options near them.
Conclusion
By following the dentist's SEO strategies outlined in this guide, dentists can significantly improve their organic and local search visibility, earn more patient leads from the web, and grow their practice over time.
The keys are researching the right keywords, optimizing your website content around those terms, earning authoritative backlinks, and tracking SEO results.
Family law attorneys should prioritize high-quality content, technical excellence, and an exceptional user experience in their SEO efforts, steering clear of shortcuts, to achieve long-term success by steadily building their rankings through continuous SEO refinement and improvement.
With more and more patients turning to the internet to find dentists, SEO is now a foundational marketing strategy for dental practices of any size looking to expand. Use this guide as a handbook to boost your search rankings and attract patients from Google and other search engines.
FAQs 
Q: How long does it take to see SEO results?
A: It generally takes 3-6 months of consistent SEO effort before you start seeing significant improvements in rankings and organic traffic. But you should see incremental progress from month to month. With complex local SEO strategies, it can sometimes take up to a year to fully realize the benefits.
Q: What is the average cost of SEO services for a dentist?
A: On average, most dentists spend between $500 to $1,500 per month on SEO services. Factors like location, competitiveness, agency/freelancer rates, link building, and content needs impact costs. Make sure any SEO company provides detailed reporting and ROI tracking.
Q: Should I hire an SEO agency or do it myself?
A: Many dentists hire SEO agencies to handle the technical work while providing overall direction themselves. However, with education you can absolutely manage SEO in-house if you dedicate the time. There are also hybrid approaches like outsourcing to a freelancer.
Q: How often should I create new website content?
A: Ideally, dentists should publish 2-3 new pieces of content each month. This provides fresh material for search engines to index, helps with local rankings, and shows patients your practice offers helpful information. Mix long-form content like this guide with videos and brief articles.
Q: What are some common on-page SEO mistakes?
A: Keyword stuffing content, weak page titles, low-quality web copy, thin content, and not using headers are some frequent on-page mistakes. Avoiding grammar errors, using strong calls-to-action, and optimizing images also boosts on-page SEO strength.